Top Electricians » Electrician Services
Electrical Services
Electrical services range from installing a ceiling fan to wiring a home or checking if the washer/dryer is working properly. The electrical services within a home or work environment are very diverse in nature as can be seen in the following list:
Electrical Services
Need to hire an electrician for any of the above services? Submit the form on your right to receive multiple estimates from electrical contractors in your area.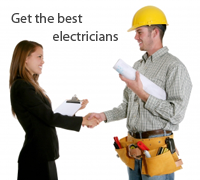 The most common electrical problems that people come across have to generally do with loose wiring, loose circuits or faults in the internal circuitry of the appliance or device. These problems can be avoided or rather the down time due to electrical issues can be minimized by hiring an electrical contractor to do routine checks on your circuitry. This way, electrical repair time can be minimized if the overall problem can be avoided.
Before hiring an electrician to service your electricity it is always a good idea to have at least a rough idea of what needs to be done. For example, always make sure that there is no loose wiring on your electrical panel. An electrical panel is where your circuit breaker will be installed. This is like the main distributor of power to your entire home or office.
Secondly, make sure that all the wiring on your appliances and or devices are secure in their insulation. If this insulation has come out, then use some insulation tape and repair it. These are ways to prolong the use of the wire in a safe manner without having to replace it.
Thirdly, never have wiring running under carpets or across door ways to avoid people tripping on it. Moreover the constant tugging can also create a loose connection.
Lastly, fear not. In this modern day of electrical power, things are bound to stop working or short circuit at some point or another. Therefore, the best you can do is to hire an electrical contractor to do the routine checks and maintain your electrical system to guarantee maximum up time.