Top Electricians » Safety Systems
Electrical Safety Systems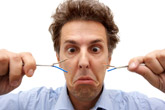 Electricity has always been a major cause of household fires. Our electricity consumption continues to increase and this in turn increases the risk of fires in our homes. We seldom think of updating our electrical system to suit our increased demand. On the contrary, we tend to load the existing system that is unable to handle the demand and this leads to short circuits, damage to appliances and devices and even electrical fires.
Need your electricity checked for proper safety? Submit the adjacent form to receive local electrician estimates.
The advancement of technology has now created safety systems that should be installed in every home by professional electricians. In fact, most states will fine you if these elements are not installed. Ground Fault Circuit Interrupters (GFCI), Arc Fault Circuit Interrupters (AFCI), Tamper Resistant Receptacles (TRR) are some of the most vital safety elements that you must have in your home.
Electrical Safety Systems
The AFCI is a type of circuit breaker which recognizes fire hazards and shuts down the power immediately. The US Department of Housing and Urban Development has noted that a majority of the houses that have had fire related damage are those that have not had AFCI circuit breakers installed.
GFCIs are circuits that ground your electrical system. This way, any excess electricity that comes through your grid due to a power surge is sent back to the earth and does not come through your appliance. Most old homes will not have GFCIs installed so if you have bought an old home, make sure you ask an electrical contractor to install them.
TRRs have an internal mechanism that shuts off the power to an outlet in case small children insert foreign objects into them. The Electrical Code in most states has made TRRs a requirement in newly constructed homes. If you have an old home, have an electrician equip your outlets with TRRs.
Fill the form on your right for local electrician quotes.