Top Electricians » Electrical Panel
Electrical Panel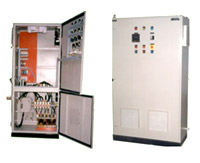 The electrical panel in your home is the place from where power is distributed throughout the house. The power from the utility company flows to the panel and from there it is distributed to the receptacles. If too much power flows to your wires, they could melt and fires are liable to happen. To avoid an overload of power such as this, the electrical panel will detect any problem and stop the flow of the current i.e.; break the circuit.
Properly functioning circuit breakers are very important when it comes to the safety of your home. Your electrical panel will require an upgrade if it is too small, which means that your power demand is more than what your panel can supply. An upgrade will also be required if the panel is deemed unsafe. Older electrical panels are best replaced before any damage is caused.
When you add more appliances and devices it is always a good idea to upgrade your panel. Adding central air conditioning, adding a hot tub or a spa, adding another room or adding more devices to your kitchen are the most common reasons that warrant a panel upgrade.
One of the main reasons to upgrade your panel is if it was installed a long time ago. However safe they might have been, fuse boxes and circuit breakers develop their own set of issues due to age and usage. Therefore, rather than risk it, it's always a good idea to have a professional electrician perform an upgrade for you.
Another thing to remember is that older panels have fuse boxes rather than circuit breakers. Also, these fuse boxes handle comparatively less power.
An electrical panel is referred to by many names. To avoid confusion, here is a list of names to keep an eye out for:
• Breaker box
• Circuit breaker panel or box
• Power breaker
• Fuse box
• Fuse board
• Load center
• Panel board
• Electrical service
• Residential service
• Service panel
• Main panel
• Distribution board