Top Electricians » Commercial
Commercial Electricians
Electrical power keeps offices, buildings and industrial facilities running smoothly. Find below some of the many commercial electrical services provided to small and big businesses:

Re Lamp
Re Ballast
Maintenance
Security Lights
24/7 Emergency
Troubleshooting
Surge Protection
Fluorescent Signs
Parking Lot Lights
High Voltage Wiring
Equipment Upgrades
Specialty Receptacles
Inspections and testing
Motors & Transformers
Indoor/Outdoor Lighting
Data, Phone Cable Wiring
1 Phase & 3 Phase Circuits
Fluorescent Balast Changes
Sign Repair & Maintenance
Machine hook-ups and repair
CCTV and card access systems
Electric Additions and Remodels
Halogen, Sodium & Metal Halide
Warehouse HID/Florescent Lighting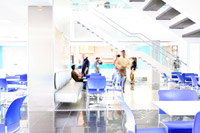 For any of the above commercial electrical services simply submit your job description and have electricians bid on your project ASAP. Find here commercial electrical contractors in your area to help you out with any electrical problem, big or small.
Electrical problems can strike in the office and jeopardize the safety of the workforce and cause expensive business downtime. Ensure the safety and productivity of your business by providing immediate repair as soon as electrical troubles strike. Know which technician to contact – hire a commercial electrician fully equipped to manage your electrical requirements at every level.