Top Electricians » Electrical Wiring
Electrical Wiring Contractors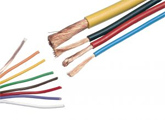 Today, electrical appliances are the basic necessity in every household. That is, way we have to ensure that our houses have safe electrical wiring and outlets that can accommodate all electrical devices. If you are building a new home, make sure your electrical wiring is safely and correctly installed. If you are thinking about remodeling an old house, this is the best time to have all outlets inspected and rewired.
Electrical Wiring:
If you plan to do your house wiring yourself, make sure you have the skills and knowledge for the job. There are complex electricity wiring diagrams involved and safety issues concerned. In some countries, cities and states, there are specific codes to follow and permits to obtain before you can start performing home electrical wiring yourself especially when you are adding circuits and upgrading your system. If you have any doubts about the project, ask an expert to do the job.
The first and most important thing to always consider in residential electrical wiring inspection is to turn off the power. Before testing, diagnosing, inspecting, rewiring and replacing outlets make sure that the electricity is not running. You do not want to experience just how painful an electrical shock can be.
Have a circuit tester ready and available to use. Make sure all electrical wiring, sockets and outlets are not active before inspection. Once the power is off, insert the circuit tester into your outlets, if there is any electricity running through them a red light will blink or a warning sign will go off.
Electrical wiring should be based on an accurate plan of your house, and more specifically on a list of all damaged wiring and electricity wiring diagrams. It is highly recommended to contact a professional electrician to carry out these particular tasks. It is important that residential wiring should be done in a safe and proper manner to avoid electrical accidents. This is a very dangerous job and should therefore be left to professionals.
Appropriate tools and equipment must be used for any electrical wiring project. Depending on the amount of work to be done or extent of the project, certain materials should be employed, like screw drivers, voltage or circuit tester, electrical tapes, wire cutter, electrical drill, cable or wire stripper, circuit boxes, and switches. Clearly, a certified electrical wiring contractor is always equipped with the required tools.
Thoroughly familiar with local residential wiring codes and regulations, qualified electricians know which safety requirements to follow when embarking on a wiring project. It is imperative that these codes be complied with, as it is quite simply a question of life and death.
Organization, precision and cautiousness are crucial factors in any wiring / rewiring project. An experienced electrician will do his best to follow these traits. He will thus make sure the wires are connected to the suitable receptacles. For example, black wires need to be attached to the brass nuts, the white wires need to be connected in the silver nuts and the ground wire to the green nuts.
Labeling the origin of the electrical wires and their required destination is also a sign of professionalism. Attaching the electrical wires to the outlets should be done correctly. Once the wire is removed from the old outlets, they should be labeled immediately, as this will prevent unnecessary setbacks later on.
An experienced electrician wears protective garments and attire for the wiring project. He thus puts on gloves and mask to protect himself from sparks and short circuits. A fire extinguisher should be placed nearby in case of a fire, and a first aid kit should be available in case of burns.
House Rewiring: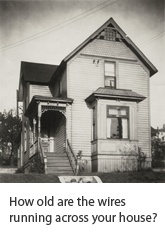 Rewiring houses is a crucial task. We need to keep our home updated with the current day demand of electricity. Nowadays, the average amperage in a house is between 80 to 150 amps. Some houses built thirty years ago are not designed to accommodate multiple appliances. We need to routinely assess our home and locate possible faulty wiring to avoid electrical accidents in the future.
The usual signs that would indicate it is time for house rewiring are dimming lights, hot outlets, blown fuses and tripped circuit breakers. Check the colors of the cables, most modern and current cables are white and gray in color. Black rubbers coated cables are old and need to inspected.
Rewiring houses may be expensive. Most electricians calculate the rewiring costs according to hourly rates plus traveling expenses. If you have experience and knowledge about electrical functions and systems, you can perform simple tasks yourself like rewiring lamps and replacing old outlets, which is certainly a way to save money.

If you plan on rewiring a lamp yourself, make sure you are skilled enough and equipped for the job. Doing some electrical work yourself might sound easy but your house may need more than just a little outlet or lamp fixing. You need to have an expert fully evaluate all house electrical devices. It may be best to hire a professional electrician to properly assess the electrical system and to accurately determine your rewiring house needs. You might not be able to recognize certain wires that have deteriorated throughout time. Your local electricians are trained and have full knowledge about the complex world of electricity. You can be assured that all your wiring will be inspected and repaired to avoid accidents. Wiring contractors are familiar with the codes and regulations so you can save yourself the hassle of researching, learning and following the codes. Also they are equipped so you do not have to worry about purchasing the right materials and equipment.
Call your local electrician to enjoy high quality house wiring services and give your family a safe home.
For wiring/rewiring work submit the form on your right to receive multiple quotes from electricians in your area.