Top Electricians » Residential
Residential Electricians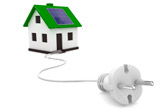 Electrical power is vital to modern living. Without it almost nothing in our homes works, no lights, no appliances, computers, air conditioners – nothing!! Homes will usually be served by 100 amps to 200 amps of electrical power, although 400 amps for a very large house is fairly common too.
Residential Electrical Services
Electrical problems are no DIY jobs for the great danger electricity poses to inexperienced users. Find here residential electrician services by electricians dedicated to tackle home electric troubles quickly and at affordable costs.
Rewiring
Meter Upgrades
Troubleshooting
Surround Sound
Air Conditioning
Intercom systems
Breakers & Fuses
Remodeling/Additions
24/7 Emergency Response
New Circuits
Fluorescent Ballast
Pool Motor Problems
Panel Change, Repair
Home Theater Wiring
Basement Finish Wiring
Indoor/Outdoor Lighting
Electrical Service Inspections
Computer/phone/cable TV wiring
Home Entertainment System Setup
110V Circuits, 220V Circuits, 480V Circuits
To get the ball rolling simply submit your job description to receive multiple quotes by electricians in your area.
Home Electrical System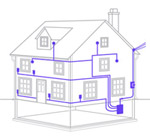 A home electrical system consists of incoming electrical lines, a meter box, an electrical panel board, wiring, various appliances and indoor/outdoor lights. Other residential electrical systems include wiring for home theaters, audio systems as well as wiring for security systems, doorbells, telephones, and intercoms.
How Does it Work
Incoming power lines run from the street to the electric meter box (this unit is read to determine your electricity bill) outside the home, through an exterior wall and into the electric panel board. Inside the electric panel are switches (also known as breakers) where the total electric current available to a home is divided up across circuits to control the electricity supply in each room.
Electrical Safety Measures
The following safety measures included in a home electrical system are required by building code to protect the occupants of the house.
Smoke detectors in bedrooms and hallways are hardwired to the electrical system and interconnected to each other to alert of a fire. Battery backup smoke alarms are also implemented should power cuts disable electric smoke alarms.
Ground Fault Circuit Interrupters (GFCI) are installed in high-moisture rooms like bathrooms, kitchens, garages, basements, and pool areas to protect occupants against electric shock by disconnecting circuits.
Circuit breakers prevent fires by cutting off electrical current to a certain room if the wires short out.